Aquobex Flood Resilient Property™
Working in partnership with the award-winning Baca Architects, the Aquobex Flood Resilient Property™ at BRE Innovation Park is now in the planning stages. A working demonstration of cutting-edge technology for the building and retrofitting of flood resistant and resilient buildings, the property will feature up to Code Level 6 sustainability.
Live demonstrations will illustrate how quickly vulnerable flooded areas in domestic, commercial and retail properties can be recovered at minimal cost and disruption, while still maintaining the aesthetics required for modern living. It is now more important than ever to establish easily affordable flood protection products and flood resilience methods for all building types in retrofit and new build.
Environmentally friendly and sustainable solutions are essential for active sewer maintenance, 'low flush' toilet systems and the installation of affordable manual or automatic barriers and flood defences. The development of resilient interior materials for walls, floors, kitchens, bathrooms and much more is critical in giving security to property owners and helping them to achieve better insurance premiums.
Featuring flood protection products from a range of suppliers, the live demonstration building will showcase the effectiveness of flood doors and barriers, flood resilient interiors, sewer maintenance and FOG prevention. Displaying nanoShell, Dragonboard®, Sealwise and cavity wall insulation, the building offers additional expertise in rainwater harvesting and sustainable drainage systems (SUDS).
SPONSORSHIP
Having recently been awarded a £50K grant from Defra, we are looking for further sponsorship from other businesses and organisations with specialist knowledge in this field. To have your name associated with the project and to be able to use the house for your sales and marketing events and activities, please contact Aquobex on +44(0)192 351 8582.
---
Downloads
Download Aquobex Flood Resilient Property Plans
Download Environment Industry Magazine Coverage
Image Gallery
Related Video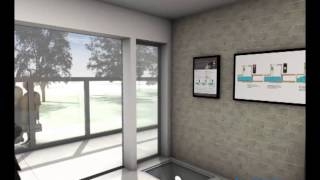 Aquobex Flood Resilient Property
Repair and Renew Grants
Business Flood Protection
Community Flood Protection
Infrastructure Flood Protection
Home Flood Protection
Risk Management for Insurers
Emergency Equipment
---
---
Keep Informed
Aquobex
@Aquobex
Follow @Aquobex
RT @debecca : Lancaster is flooding again
INTENSE to say the least twitter.com/johncurtinEA/s…